Rare Stamps -- The Holy Grail of Stamp Collecting
Rare stamps, for stamp collectors, are considered to be the holy grail of stamp collecting. Some people collect stamps simply for fun and enjoyment while there are those who choose to collect purely for economic reasons. Because the art of stamp collecting is a widespread and popular trend all around the world (think 200 million worldwide), it is absolutely possible for a knowledgeable stamp collector to make some money from his or her collection. For such stamp collectors or philatelists who make money from stamps, their main goal is to find stamps that have printed errors on them or those categorized as rare stamps, because these can fetch them the biggest amount of profit.
What are Rare Stamps?
Ever since the first issuance of the Penny Black postage stamp in 1840, thousands of various postage stamps have been released throughout the world. Most of these stamps, of course, are valued at only less than $1 each. As for rare stamps, they are those that exist in very small numbers, from 1 to 100, and most of the times, such rare stamps are considered to be the most important issues of their particular countries. Click here to view the Penny Black postage stamp.
You cannot travel back in time to print a new, genuine 1840 Penny Black. Also, it is impossible to reproduce print errors that were missed in the late 1800s or early 1900s.
The ultimate dream of every serious stamp collector is to find rare stamps. For such items to be considered as rare stamps, it depends on how many of these stamps were produced and also how many exist today. Also, another factor for considering a stamp as rare is when only a few of them exists in a very good condition.
What's the Value of Rare Stamps?
Rare stamps are valued from as low as $10,000 up to as high as $1,000,000 or even more! The British Guiana 1-cent magenta postage stamp is known by many stamp collectors and philatelists as the world's most famous stamp. It is considered a rare stamp that was issued in British Guiana (known today as Guyana) during 1856 in very limited numbers. It is the only one stamp known to exist today. This rare stamp was sold in June 17, 2014 for a whopping $9,500,000 (9.5 million)! Click here to view the British Guiana 1-cent magenta postage stamp.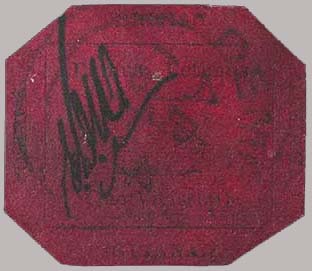 Why Are Rare Stamps very Expensive?
There are actually 3 significant factors that influence the expensive price of rare stamps:
1) Diversify assets and Positive return rate -- Rare stamps have little to no connection at all when it comes to publicly traded companies or the stock market, real estate and almost all other volatile assets. It has been estimated that the annual return rate for premium stamps are 10%, and even more for rare stamps.
2) Stable -- When the stock prices go down, rare stamps are virtually immune from such unfortunate market cycles, and their prices go up, slowly but steady.
3) Always Going Up -- As time goes by, the price of rare stamps just keep going and going up.
How to Find and Collect Rare Stamps
It is actually difficult to identify rare stamps, especially for those who are just new to the hobby, due to the fact that it requires a fair amount of knowledge on stamps and stamp collecting. As a stamp collector, you must know the factors that influence the rarity and value of a certain piece of stamp. It is extremely crucial that stamp collectors are armed with ample knowledge so that they can avoid paying more than a stamp's real worth and also to avoid missing stamps that may be very valuable.
To begin collecting stamps, you need to familiarize yourself with specific stamp words known as philatelic terms, because they usually describe the condition of a stamp and, in the end, its value. Philatelic terms are often used by stamp sellers to describe their stamps. Thus, by familiarizing with the commonly-used philatelic terms, stamp collectors can identify the type and condition of the stamp quickly and easily, most especially when they are buying online and cannot inspect it up close and in person. Some of the most common yet important terms that a stamp collector must know are: gum and hinged, because these two significantly influence the value or price of a stamp. Never-hinged stamps are definitely worth more than hinged ones, while rare stamps in mint condition are worth even more. It is crucial that stamp collectors be vigilant when checking a stamp's condition (especially if they are rare stamps) because some dishonest sellers may re-gum or re-perforate a stamp just to increase its price.
Where to Buy or Sell Common and Rare Stamps Online
Thanks to the technological advancements we have today, stamp collectors can now buy, sell or just show others their collections of common or rare stamps online. There are many notable online stamp websites that you can visit, and one of them is StampWorld.com, a stamp website specially made for stamp collectors, by stamp collectors.
It is never too late to catch the philatelic bug and start collecting, and with a free online catalogue to help you, you will surely have fun collecting stamps from all over the world! Click here to view our free online catalogue.