This article is taken from the magazine Greenland Collector vol 22, which is issued in January 2017.
Sports in Greenland II
By Miki Jacobsen, multi-faceted artist
Part One of the "Sports in Greenland" set was issued in 2016. I am now continuing with an additional three stamps, for the second part of this series.
Everybody knows that exercise is a good thing. One way to take exercise might be by participating in one of Greenland's numerous sports disciplines. There are thousands of sports people in Greenland who are members of the various clubs and associations, but their numbers are fewer than they were some years ago. But this might not be an indication that fewer people are using sporting activities to exercise. In recent years, we have seen gym culture, yoga and other ways of using your body and achieving a state of well-being. And these "new" sports disciplines are not included in statistics for sports people who are members of clubs.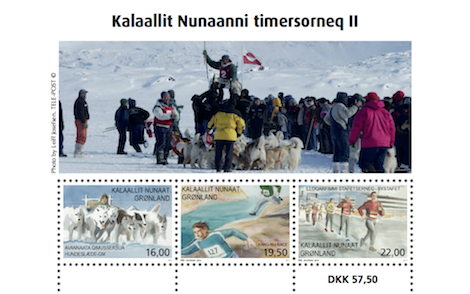 "Keep moving!" is a good motto if you are going to maintain a fairly steady level of health. Greenland obviously has some unique sporting opportunities in terms of experiencing nature, while breathing in the freshest air in the world. At least if you get away from the bustle and noise of town life. Outdoor activities are also possible in the towns, such as football, with artificial turfs etc. in the larger towns.
"Gør Maj Sund" ("Make May a healthy month") is also one of the annual recurring events that gets people up from their couches in their homes, at least in Nuuk and in other coastal locations. This is, for example, expressed in the "Kang-Nu" mountain race just south of Nuuk, as well as relay races for teams in our larger towns.
This short series of stamps shows only a glimpse of the sports that Greenland has to offer. New sports disciplines appear continuously. Some are based on traditions, such as the dog-sled race which is a huge attraction every year. Not only in the world of sports is a strong sense of teamwork most important. For example, organising the annual dog-sled race involves the efforts of many people for this sporting event to get off the ground.
Sports in Greenland seem to be in good shape, also for the future.
About the artist:
Miki Jacobsen has illustrated more children's books and, since 1982, he has had his works exhibited in Greenland, Scandinavia, Ireland, the US and Canada, among others. Educational art courses at the Art School of Greenland, The School of Decorative Art (drawing and graphics)/the Danish Design School and the Nova Scotia College of Art and Design in Halifax, Canada, among others.
Miki Jacobsen masters several different techniques and means of expression, which are often combined in his projects: painting, graphics, photography, computer graphics, sound and performance. Miki has drawn stamps for POST Greenland since 1992.
All three stamps, as well as the souvenir sheet and the souvenir folder, can be purchased directly at POST Greenland.